Description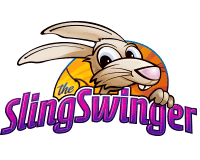 Los Cabos will make you remember the best moments of your childhood: no work, no worries school and all day on the playground running, jumping and swinging from a gondola 300 feet above the ground in the biggest swing you've ever seen. Undoubtedly one of the most impressive activities of your life! The Sling Swinger is a must-do while at Wild Canyon. This ride, even though it involves a great amount of adrenaline, is very smooth, exhilarating and can be done solo or with a companion.
Upon your arrival at the park, we'll provide you with the appropriate equipment and detailed instructions to your activity. Then, you will take a cable car to the center of the canyon, where you'll transfer to the gondola.
Once inside the gondola, the feeling changes—with its tempered glass bottom, you'll feel like you're suspended in the air 300 feet above the canyon. And then comes the moment when we connect you to the bar of the swing and release you. You'll free fall and then start swinging in a pendulum of a 240-foot radius at 140 km/hour. The wind on your face, the intense feeling of falling and it's all just half the fun. Just wait until you start swinging back and you get to live the experience all over again…but backwards! You will never forget the feeling of freedom that you will feel flying through the canyon!
Once your tour is completed, you can relax at Lion's Den Restaurant, famous for its coldest beer in Cabo and delicious buffalo wings. Don't leave without trying them.
Times: 09:00 am, 12:00 pm y 03:00 pm
Duration: 4 hours approximately with transportation included.
Highly qualified, bilingual guides.
Water bottle.
Training and Induction.
Use of professional equipment.
Free lockers ($5 US deposit, returned at exit).
Round-trip transportation from your hotel if you're staying in Cabo San Lucas, San Jose del Cabo or along the Tourist Corridor. You'll receive your pick-up time as part of your confirmation within 24 hours of your booking.
Minimum age: 10 years old.
Minimum weight: 90 lbs or 40 kg
Maximum total weight of both participants: 450 lbs or 204.11 kilograms.
For their own safety, pregnant women and people with heart, back or neck problems, as well as those with vertigo or osteoporosis won't be allowed to participate in this activity.
With your safety in mind, the use of cameras is not permitted. Our professional photographers will be there to capture your adventure at all times.
Bring cash, credit or debit card for souvenirs, food and other services not included.
Bring comfortable clothes and closed shoes preferably.
Bring hat or cap and sunglasses.
We strongly recommend use of biodegradable sunscreen.
Guardar